The Need has Long Existed….So
AT LAST…!
HERE IS SOMETHING THE
BODYBUILDING WORLD HAS
BEEN WAITING FOR….!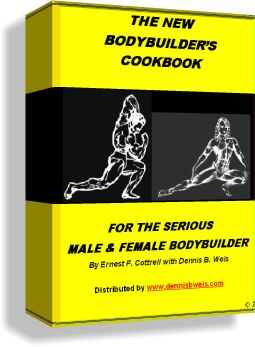 This is the high demand cookbook hundreds upon hundreds of serious bodybuilders have waited long to obtain.
NEARLY 3 DECADES OF PROFESSIONAL BODYBUILDING/NUTRITIONAL EXPERTISE WENT INTO THIS COOKBOOK…BY WORLD-KNOWN BODYBUILDING AUTHOR/INSTRUCTOR ERNEST F. COTRELL.
A pioneer in the physical culture scene the name Ernest F. Cottrell became synonymous as an undisputed muscle building nutritional coach due to his success of turning bodybuilder's dreams of real muscle size and strength gains into a reality through sound nutritional concepts accurately applied, rather than through anabolic steroid induced gains.
Within the covers of The Bodybuilder's eCookbook, Ernest F. Cottrell shares his expertise with a powerful compilation of nutritional comments which will empower you to take control of your eating habits and as a result make the best possible muscle gains. 
UNIQUE!  COMPLETE!  EASY TO UNDERSTAND!
NOTHING LIKE IT EVER PUBLISHED…! 
SPECIFICALLY WRITTEN FOR THE SERIOUS MALE & FEMALE BODYBUILDER.
Contents of…
20 Hi-Protein Malts!

20 Hi-Protein Sandwiches!

20 Hi-Protein Snacks!

15 Hi-Protein Soup & Stews!

5 Quick Very Hi-Protein Breads & Cakes!

10 Hi-Protein Desserts!

5

Hi-Protein

Candy

Bars

!

5 Hi-Protein Cereals!

10 Quick Hi-Protein Meat Dishes!

6 Hi-Protein Sauces & Gravies!

2-Weeks of Easy-to-Follow Menu Suggestions!

Quick, Delicious Gourmet Cooking

Secrets for Best Taste!

Complete Breakdown of Protein Grams,

Carbohydrate Grams, Fats and

Calories! Know What You Eat…

Effective Slim-Down without Starvation, Muscularize, etc

Eat the foods you think you couldn't, gain muscle and lose fat! (forbidden foods)

PLUS…THE ERNEST F. COTTRELL BONUS SECTION:
If you haven't seen any meaningful gains in muscle size and strength in say the last 6 months this must read "Insider Secrets" report unlocks the door to staggering muscle gains.   You can't help but develop your body to its top peak of thrilling size and strength.
"Advanced" Arm Program  
Lean Ernest F. Cottrell's exciting, one-on-one road map super arm building methods. This break though two month program will quicken your pulse and get your arms growing like never before.  Ernie's powerful step-by-step arm training advice will stimulate the deepest untapped muscle fibers for the most awe-inspiring gains in HUGE, RIPPED NATURAL MUSCLE.
….AND SO MUCH MORE…
If you are looking to pack on serious muscle, The Bodybuilders eCookbook reveals all you will ever need to know about the nutritional requirements for super-charged muscle growth. 
"You will find ways to eat the build muscle, burn fat and enhance your health without the modern bodybuilding starvation diets. Eat Your Way To Gains! Grow Muscle! Burn Fat! Eat Right! Get Lean!--without getting hungry or starving yourself. Learn the secrets of this from Ernest Cottrell!"
Don't miss this tremendous opportunity to profit from the eye-popping advice and suggestions in The Bodybuilder's eCookbook.
Hands down The Bodybuilder's eCookbook packs an explosive wallop in big nutritional muscle gains and is WORTH 10 TIMES THE AMAZING LOW $19.95 PRICE – GUARANTEED…!
The Bodybuilder's eCookbook meticulously speaks to every appropriate facet of nutrition at all levels to both the Serious male and female bodybuilder.
Be the one who always has the answers. TAKE IMMEDIATE ACTION BY ORDERING NOW!  Upon receiving your rapid response and payment of $19.95, I will immediately e-mail you The (modern-as-tomorrow, fully comprehensive) Bodybuilder's eCookbook.